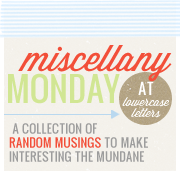 1. My Saturday wasn't very exciting. I held down the couch pretty much all day. I think the only times I left it was to go to the bathroom. I was running a fever and just feeling yucky overall so I stayed home while Dave went to Sioux Falls to hang out with his family.
2. Sunday I woke up fever free and was feeling quite a bit better so I was able to attend my sister-in-law's baby shower. Totally forgot to take my camera with me so I have no pictures to share. It was a very nice shower. The food was awesome and she got a lot of great stuff for baby.
3. Since we don't have school today, I'm going to get some errands done and do some laundry. I lead such an exciting life :o)
Hope you have a great Monday!