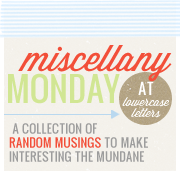 -- Today in PE, the kids were practicing their football throws. I was watching one of my kids off to my right when all of a sudden I got nailed in the left boob with a ball. Kinda hurt a little.
-- The temperature today was 81. We are suppose to have 80s all week. I'm trying to enjoy it but it's fall...I'm ready for 50s and 60s!
-- I put away my fall decor yesterday and got out the Halloween decorations. It's hard to believe it's October already!
--I bought a few new Christmas tree picks/sprays while shopping the other day. 53 days til Black Friday!! Ohhh...the thought makes me so happy!! :o)