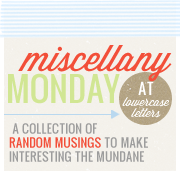 - David and I went to
The Help
yesterday. As I told my mom, you know a movie is good when the credits start rolling and no one gets up to leave. I liked it, a lot. I loved the book, but I felt a much wider range of emotions during the movie. I had to fight back tears quite a few times. I'm not a public cryer (or I try really hard not to be at least), even when in a dark theater.
- I went to Hobby Lobby on Saturday and got a few fall pieces. I'm so excited to put them out!!
- I'm getting my hair cut on Wednesday. I can't wait! I'm thinking about going fairly short so maybe I'll actually fix it for school this year. We shall see what the stylist thinks.
- David will be running a 5K this coming Saturday.
- I've been working on a list of things I want to get done before school starts. Nothing like waiting until the last few weeks of vacation to do what I should have been working on all summer.