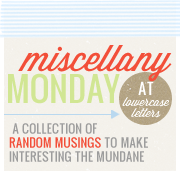 - I had an AWESOME weekend. I rode home with my brother Friday afternoon and spent the whole weekend at my mom's. I got in a lot of family time and friend time, which makes me a happy girl. Some things I did while home:
-- spent some quality time with my brother. I laughed a lot and learned some things about him that I maybe didn't
need
to know ;o)
-- went shopping with my mom
-- went out for supper with my mom and dad Friday night
-- had Sunday lunch and supper with my family
-- visited my Grandma H. and listened to her interesting stories she had to tell that day (she has Alzheimer's)
-- spent time with my friends Tasha and Trisha
-I took my camera home with me so I could get pictures while I was there. It sat in the camera bag the whole weekend so I have zero pictures from the weekend.
- My flowers were looking pretty sad today since they hadn't been watered for three days (forgot to ask Dave to do that for me while I was gone). So, I spent a good half hour watering them only to have it rain an hour later.
- Halloween candy is on the shelves :o)
- I ordered some shoes last week. They arrived today and they are too tight :o(. I have the hardest time finding shoes that fit right.
- That's about it. Nothing too exciting around here. I'm just enjoying the last couple weeks of summer break :o)
PS - I found out about Misc. Monday over at
This Southern Girl's Nest
and thought I'd start joining in too :o)